6 Best Ironing Boards You Can Buy In 2021
By:Wireking
Date:2021/07/30
HOT OFFERS:
From the best value to the most stylish models
——WIREKING Focus on the production and wholesale of storage carts and ironing board
Nowadays, society has very high requirements for the cleanliness and tidiness of clothes. When going out to meet customers, and when going out with lovers, they all need to be neat and tidy. But most of us hate and are not used to ironing, but the right and highly functional ironing board can transform a laborious chore into a painless task. Let the beloved wear neat clothes, it will also make the mood happy.
WIREKING has 20 years of professional ironing board manufacturing and production, and rich experience in researching and developing ironing boards. Various styles of professional ironing boards can be applied in different scenarios. Choosing the right board for you, depending on your needs, will also save you a lot of effort in the long run.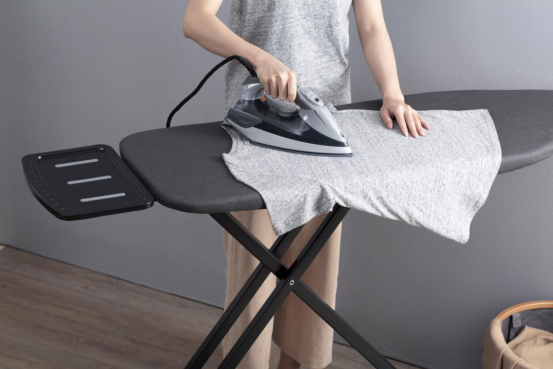 Ironing can be a chore but with some of our fantastic deals you might end up enjoying it.
Luckily for us, there are many ironing boards to help you straighten out even the most wrinkled items.
If you're struggling to find a board to suit you then look no further as we've provided a load of options from the likes For more styles to choose from, you can ask us for a catalog. We recommend checking out a few different retailers once you've settled on an ironing board as you might be able to unearth a bargain by shopping around.
Our top picks below are based on a mixture of customer reviews and expert opinions.
1. ironing board with butterfly iron rest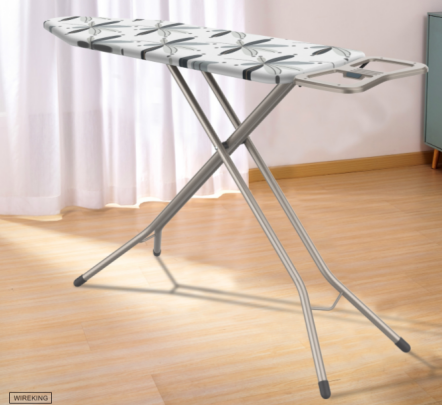 If you don't want to break the bank on a new ironing board, this one isn't too pricey.
The folding ironing board is lightweight and easy to store in a cupboard.
It's the perfect addition to the laundry room of a busy family, where the priority is speed.
It's got an adjustable height – from 74cm-91cm – so can be used by all the family.
You can rest assured that this ironing board is super safe, featuring a child-safety lock and secure iron rest.
With Butterfly shape iron rest, No matter which direction your iron is from, you can put the iron in a suitable position.
One of the sturdiest options, this ironing board has non-slip feet that will grip on even wooden floors.
The board is wide enough to comfortably iron even bedding - so is suitable for bigger ironing tasks.
2. Removable ironing board--The new R & D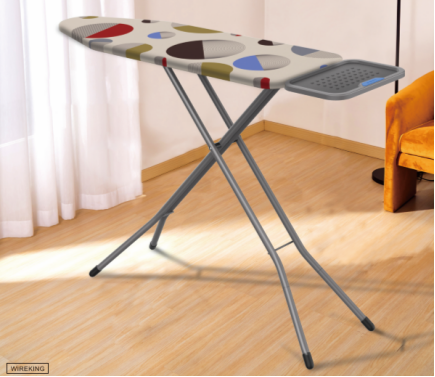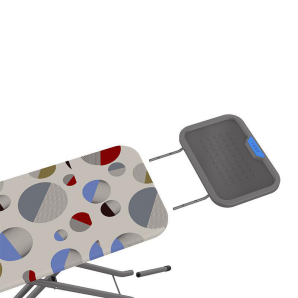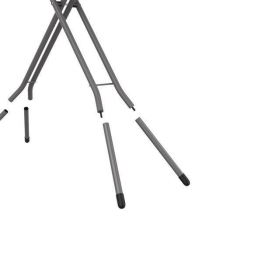 WIREKING latest design and research and development, specifically for online sales customers, Knock-down iron rest and feet space-save package.
Four sturdy, durable, White non-skid metal legs provide rigidity when the board is in use. built to stand still, plus protective feet cover help shield floors from scratches.

3 layer board cover pad - heat resistant - great iron experience - a 3-layer blend of foam, felt, and fabric to ensure clothes drape smoothly over the surface without sticking or damaging fabrics Extra thick, 100% cotton supported by foam works best for withstanding heat and keeping clothes from sticking! The metal mesh top will allow steam to pass through and evaporate.

Easy storage, Lightweight, Storage lock lightweight less easy to carry and take wherever needed, it folded almost flat to save storage space, the storage lock keeps it closed safely so it will not open accidentally it's just the right size to store in your bedroom closet, a laundry room, or a dorm.
3. Best for space-limited households - Laundry Rules Tabletop Ironing Board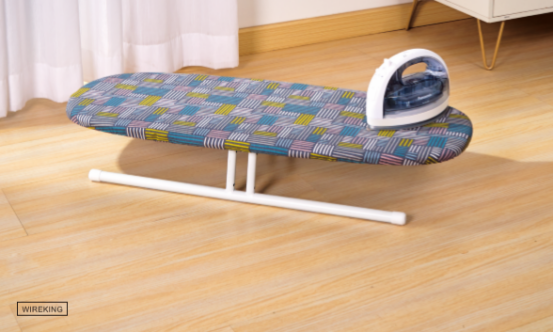 DurablePanel & Multi-Use: The ironing board panel is not easy to rot like a particleboard, it can breathe and dissipate heat quickly, and has a long service life; The countertop ironing board is suitable for sewing or craft rooms or small, confined spaces, where storage space is limited. Also can be used for laptop desk or snacks table.
Reinforced Steel legs & Cooling Porous Pad: the portable ironing board of reinforced steel folding legs is stable, non-slip feet caps protect the countertop, the porous pad has good vapor permeability and heat dissipation.
Removable & Washable Cover: 100% cotton cover and thick felt pad of mini ironing board provide a resilient and roomy ironing surface, easy to clean. This small ironing board leg can be folded and placed in the corner.
Space-saving & Sturdy Frame: The Folding tabletop ironing board is stored easily in most small places, folded when not in use for easy storage; Good quality material, more durable than particleboard.
4. Premium ironing board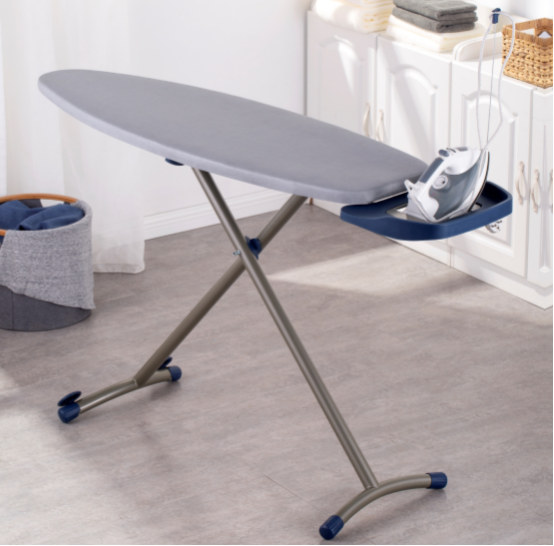 Strong structure legs design: The 38mm tube leg size and the plastic foot cover make it stronger, more stable, and stronger.
Retractable iron rest: Because the traditional iron rest will cause the overall size to be too long, it will also be unsightly, so this can better hide the iron rest, and it will also be more beautiful
With Flexible cable holder: This function is to place the iron wire especially, because the wire is too long and it is easy to fall, so this can be used to set up the wire to prevent the wire from being too long.
With wheels for easy moving
5. Best for multiple ironing positions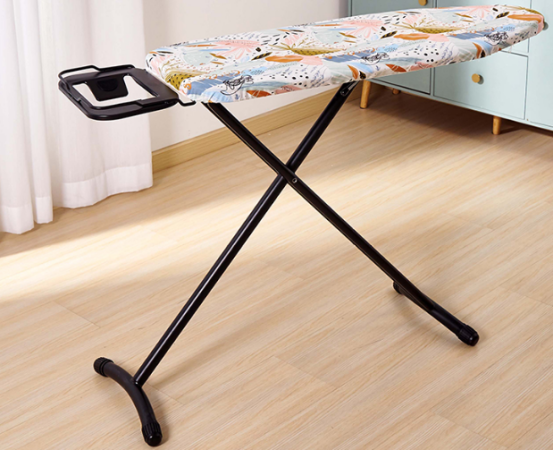 We love this sturdy and cheerful ironing board
In addition to its pretty flower pattern design, its best feature is its sliding height adjuster ranging from 46 to 97cm.
This means you can set it at the exact right level for you and it's great if you're sharing it with your partner or your housemates.
A specially designed holder keeps the cord out of the way while you get on with the task in hand - what more could you ask for?
6. Ironing board suitable for adjusting different heights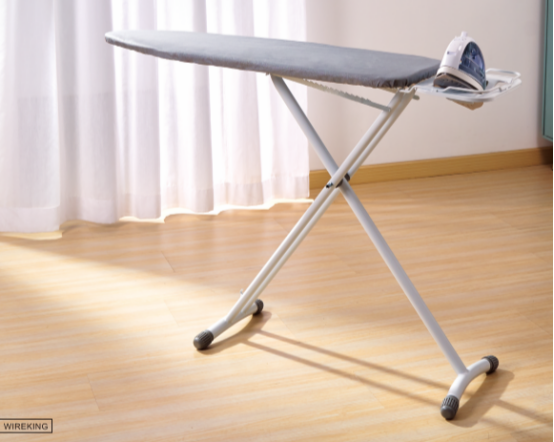 Unlimited height adjustment level
Multifunction using: adjust wire supporter to be tabletop ironing board, adjust comfort height when sitting for ironing, adjust comfort height when standing for ironing
Strong structure legs design
How do I choose an ironing board?
There are a few considerations to make before you buy a new ironing board.
Firstly, work out how much you're going to be using it; there's no point splashing out on something you'll only use once a fortnight.
Size should be a factor in your decision; if you've got limited storage in your home, you'll want to get something on the smaller end of the scale.
Once you've covered the basics, you've got to work out how many optional extras you're willing to pay for.
You can get cable clips to hold your iron cord in place, rollers for easy transport, laundry storing shelves, and even steam extractors in the top models.
Thank you for your patience to watch. The storage carts we produce and wholesale are very suitable for different scenarios. More ways to use them depend on each buyer to explore. Thank you again for watching. Look forward to our next meeting
Corporate Name: Guangdong Wireking Household Supplies Co., Ltd.
Address: No.38A, Sanzhouyang Road, Lunjiao Street, Shunde District, Foshan City, Guangdong Province, China.
Contact Person: Penny
Email: penny@wireking.com
Tel: +8613242135418
Focus on the production and wholesale of storage carts and ironing boards
CONTACT US


Guangdong Wireking Household Supplies Co., Ltd.
We are always providing our customers with reliable products and considerate services.
If you would like to keep touch with us directly, please go to contact us