Hot Sales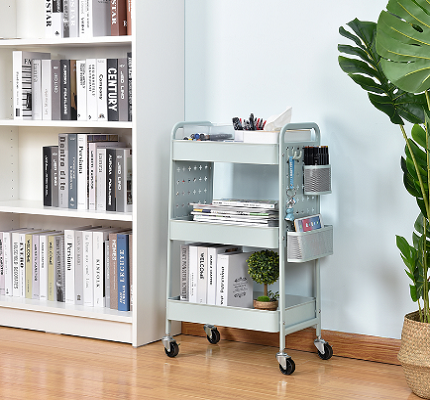 Rolling carts save storage space and make it easier to transport items around the house. We're sharing some of our favorite uses for these affordable carts, and you'll want more than one. Wireking's 3-tier rolling utility cart creates a unique and modern atmosphere and adds more workspace to your home. It's a must have for any dorm or shared space! This 3 tier rolling cart will keep you organized.
See More
Using functional ironing boards and irons remains the most popular and easiest way to keep clothes wrinkle-free. The function of the ironing board hasn't changed much since its inception, but the different portability and storage design make using the ironing board very convenient for almost everyone, here more information about Wireking ironing boards.
See More
Types of Wireking Stroage Trolley Carts

Kitchen Trolley Carts: An absolute must have for any modern kitchen. This is high quality, new and highly efficient kitchen trolley cart that is the perfect solution for your small or large kitchen. Ideal for preparing and serving food from a central location, these carts are space savers as well as efficient. They are available in various styles and designs, with fully welded frames, tilting lids, and removable trays. You will find them in many different colors as well.

3 tier storage cart: This 3 tier storage cart has been designed to be highly functional with its multi-functional storage capabilities. The multi functionality of this cart includes the ability to be used for storage, and also for food preparation and serving. The smooth wooden finish makes it the ideal choice whether you are looking for a rustic or modern look.

4 wheel foldable trolley: The rubber wood top rolling kitchen cart is another highly efficient and versatile addition to your kitchen. This cart offers additional storage space and is also very convenient to use. It has heavy duty hinges which allow easy opening and closing. This rolling kitchen cart can be used for moving your pans and pots to any room in your home. The folding top features lockable drawers which are ideal for safety.

foldable trolley kitchen cart: This unique cart has a contemporary design and is very useful for your kitchen. The black rolling trolley is made from high quality materials, including stainless steel tubing. It offers extra storage space and is a practical item to have in your kitchen. The black color is a great addition to any kitchen and provides a modern atmosphere.

As you can see, there are many styles and models of rolling kitchen trolley carts. They are useful for many purposes, providing additional storage space and being very functional. Whether you are looking for an indoor or outdoor rolling kitchen cart, you can find one that will be perfect for you. Some are foldable, which makes it easier to move them around if necessary. These carts are easy to store and are ideal for extra storage space in the kitchen.
Advantages of Using Kitchen Stroage Trolley

If you are tired of constantly having to clean up the kitchen table and countertops after every meal, then why not get a kitchen storage trolley? It is possible to store food and dishes much more tidily than ever before. A self-cleaning wooden rack allows you to remove any food particles immediately rather than having to wash it later. It's great for families, too, who want to help clean up but don't want to clean up all of the mess afterwards. It's a simple and inexpensive way to keep food fresh and free from bacteria and odors.

Keep your kitchen clean without getting in your own way with Wireking multifunctional stroage trolley cart. Made of wood, this versatile item provides you with extra counter space to prepare meals, and additional storage, thanks to its dual rear tubes which slide beneath the counter top for even greater capacity. The storage compartments come out when you fold the rack upwards, allowing you to easily reach the items on the top. This also prevents the food from rolling off the bottom, leaving the floor covered in slippery mess. The metal rack works like a tray, except that the food is held in place and compacted in the tray, rather than dropped or rolled onto the floor.

This convenient rack comes in an assortment of sizes, each designed to suit the specific needs of the kitchen. Smaller models are ideal for individual kitchens containing a small number of appliances, while larger versions are perfect for the avid gardener or large family. The smaller version can be used to store smaller items such as dry foods and waffles, while the larger version can handle large items such as whole chickens, cakes and cookies. Another benefit of using this type of trolley is the space it saves on your counter. Since the trolley slips underneath the food, there is no need to have a separate cutting board attached to the counter.

Many people, however, prefer the look and feel of a wooden rack over a plastic one. This type of rack has a lot of character and can even enhance the look of your kitchen by blending well with the rest of your decor. These wooden racks can also provide your kitchen with more storage space. Depending upon the type of wood used in the rack, you may be able to purchase food storage cabinets or simply leave the rack alone. If you choose to go with a wooden rack, you will find that most of them are made from oak, maple or walnut. However, the grain of the wood will play a major role in the way the rack will age, so you should take this into consideration when purchasing.

The greatest advantage of the wooden rack over other types of storage units is the shelf stability. This means that you are no longer having to worry about dropping and damaging your food because the rack now protects it from any sort of moisture. Since the food is stored so close to the floor, it is important that it is not stored directly on the ground, which can cause it to become moist. Also, you should remember to clean up the food daily so that it does not become moldy or start to smell. By storing the food in this manner, you can actually save yourself quite a bit of money in the long run because the food will last much longer than if you stored it in plastic containers.

You may also find that the rack is easier to clean than the other types of kitchen storage trolley that you could purchase. Since the food is so close to the floor, it becomes easier to remove dirt from the surface. The same is true for dust, which is collected very easily. You will also find that it is quite difficult to stain the wood, as it has a high natural oil content that keeps the wood very easy to maintain.
Right Scenarios And Methods For Stroage Cart Uses

——WIREKING Focus on the production and wholesale of storage carts and ironing boards

Seriously, it's a must to have a storage cart for home storage in any home and it's incredibly powerful.

As a manufacturer that produces them, it has certainly thought through the use of this storage trolley, thoroughly. But honestly, when you have a house with wardrobe or drawer space that is relatively compact, a rolling storage cart can be the biggest gainer in organisation. Not only can you move your supplies to where you need them, a storage trolley can also make for a beautiful display as well as being able to move storage elsewhere at any time for your convenience. They've really mastered that open but still organised and aesthetically pleasing look. Read on to find inspiration.

The right way to use the storage trolley 1: transformed into a bedside table

Any home design expert will tell you that putting a bedside table next to your bed is a must, as it will hold your phone, glasses, books and more, meaning you don't have to get up out of bed to find them. But often the cost of getting a bedside table can be quite high. While this multi-level storage trolley provides just the right amount of space to keep all your essentials organised, this one is only 10% of the price of a bedside table!

The right way to use the storage trolley 2: Build a stylish bar

We know that bar carts are nothing new, but for the usual bar cart, I'm sure you'll love this product and how appropriate this storage cart is if you like to entertain. The multiple levels not only provide a place to mix cocktails but also to store and hang all the essentials underneath. A rolling storage cart on wheels replaces the traditional bar area, allowing you to whisk it away from your guests. Or you can take your drinks to where everyone seems to be gathering.

The right way to use the storage trolley 3: Use a Cart as Extra Counter Space

In the kitchen, you can never have too much surface work area. Unless you have your dream kitchen (which will cost more money), a kitchen storage trolley can give you the extra space you need for meal preparation. If you really need the extra space for all your glassware and gadgets, invest in a version with multiple levels and pull-out drawers. As well as this the kitchen storage trolley has a tray that can be taken off additionally and can be used as a delivery tray.

The right way to use the storage trolley 4: Create the Perfect Desk for Your Home Office

Working at home and in the creative field can be a double whammy with the amount of materials and clutter available. Keep all your working supplies or props in a tiered rolling cart. If you're feeling gangs of clutter about your desk's environment, you might want to you can acquire this storage cart that will help you to organise your office area and also hold your printer, so you save time walking around. If you do have to stock up, you might as well make it look good. The right way to use the storage trolley 4:Tiny spaces need attention too.

It is impossible to use all the space in a space properly, so it is time to focus on the small spaces, how to use them well and what exactly needs to be stored. This gap storage trolley can help you, it is also suitable for different spaces, in the kitchen you can put spice bottles, drinks etc., in the bathroom you can put shower gel, shampoo, towels etc. More ways to use it can be discussed among yourselves

Website: https://www.wirekingtrolley.com/

https://gdwireking.en.alibaba.com/

Corporate Name: Guangdong Wireking Household Supplies Co., Ltd.

Address: No.38A, Sanzhouyang Road, Lunjiao Street, Shunde District, Foshan City, Guangdong Province, China.

Contact Person: Penny

Email: penny@wireking.com

Tel: +8613242135418

Focus on the production and wholesale of storage carts and ironing boards
Kitchen Trolley Rack Functions In Home

Wireking kitchen trolley rack is a kind of serving cart that can also be used for storage. The kitchen cart has wheels or casters at the bottom, so it can be easily moved around the kitchen or other areas of the house, such as a patio or dining area. In some kitchens the cart may look more like a mobile workbench, while in other kitchens it looks more like a storage cart against a wall or even a kitchen cupboard or pantry.

The great thing about a trolley rack stroage for kitchen is that you can find a cart that matches the look of your kitchen and adjust it to meet your exact needs. For example, if you mainly want to have a cart that moves from the kitchen to the patio for the barbecue, you can use it as a storage rack in the kitchen corner most of the time, then fill the barbecue rack or drawer to fill it when needed. If you have a kitchen cart with a towel rack, you can put a handy towel in it to wipe it down on the outside, as well as a hook to hang an extra grill glove.

Commercial kitchen carts are generally made of stainless steel. Due to the popularity of stainless steel appliances, they are now used in many home kitchens. Stainless steel commercial carts are not only durable, but can add modern style to many kitchens as well. Therefor, if you want to enhance your kitchen's stroage function, and add more things for your home, then why not consider wireking kitchen trolley rack, we believe our products will give your excellent experience in the future !
What Determines The Lifespan of Plastic Folding Cart

Components of Plastic Folding Cart

The lifespan of any object depends to a large extent on its overall durability, which is directly related to its composition. Therefore, the first thing to consider when looking for a sturdy plastic folding cart is their material. Most of these carts are made of a combination of metal and plastic, and if properly manufactured and maintained, both of these materials are relatively strong materials. Of course, there are different types of metals and plastics, some of which are stronger than others. Some folding bikes also have fabric, which can form the main container or be used as a cover inside or around a metal / plastic frame. Of course, even the toughest fabrics are more brittle than metals and most plastics, and can tear, get dirty, swell, etc. In other words, the fabric liner can help protect the items inside the cart from the harshness of the metal or plastic frame.Generally, the most durable folding bike has a frame and wheels made of steel. strong metal or plastic and a heavy fabric liner.

How The Plastic Folding Cart Is Applied ?

Various plastic folding cart products like foldable rolling carts are most often used for shopping, but these containers are versatile and have multiple functions. For example, you can use a cart to transport clothes, equipment, etc. Of course, the way you use a folding bike will naturally affect its lifespan. The more weight and pressure your cart has to take, the faster it will descend. This wear can take several years to appear, but be aware that the purpose of your basket is directly linked to its longevity.

Frequency of Usage of Plastic Folding cart ?

The lifespan of a 3 tier cart depends not only on how it is used, but also on the frequency of use. After all, the more you use something, the faster it loses its integrity. For example, if we put the exact same 3 tier cart in the hands of two people with different lifestyles, we will see the difference in wear. Suppose one person uses their cart 3 times a week, while another person takes it out only once a month. The former essentially puts more strain on the cart's frame, wheels, axles, and hinges, meaning their carriages will eventually need to be repaired or replaced years before the latter needs to do anything.
5 Things To Consider When Purchasing Metal Kitchen Trolley

It's easy to get carried away and over-stuff a kitchen with a heavy metal kitchen trolley. It is an efficient way to store your pots, pans, and other cooking utensils. Most models have four wheels so they can easily be moved from room to room. A kitchen shelf is another convenient option for space-saving. These carts are also easy to clean and operate. The following are some things to consider when choosing a kitchen trolley.

A kitchen trolley is a great way to store dishes, pots, and other cooking utensils. Some are designed with a wood or metal top and a top drawer for utensils. Some models have a chrome basket insert and shelves to hold your utensils and other items. A wooden trolley can also double as a wine rack or a towel bar. Some models can be wheeled so you can move them to any part of the house.

Stainless steel is an ideal material for a kitchen trolley. Stainless steel is an extremely durable material and will last for years. This material will make for a beautiful, functional addition to your kitchen. A stainless steel trolley can be a great addition to any kitchen, and you can find models in a wide variety of styles. They are the perfect storage solution and can double as a decorative piece, too. A metal kitchen trolley is a great investment for the modern home.

A metal kitchen trolley is a great way to add storage to your kitchen. While you're cooking, the trolley can double as a place to store the grilling supplies. You can even add a towel rack to store extra oven mitts. A metal trolley can be very practical and stylish. Whether it's for the inside of your kitchen or for outside, you can be sure that a metal kitchen trolley is a great choice.

A metal kitchen trolley can add a stylish look to a small space. A large metal kitchen trolley will not only accommodate heavy-duty appliances, but it can also be used as a storage cart. Most models have a large worktop and plenty of storage space for the rest of the kitchen's essentials. When you have guests or barbecue season, you can easily fold the trolley and store other items. This makes it convenient for you to cook delicious meals.

A kitchen trolley can make a big impact in a room. Choose a style that suits your tastes. A stainless steel kitchen trolley is a stylish and durable choice for a busy kitchen. A stainless steel kitchen trolley can be a practical addition to a small room. A stainless steel kitchen trolley will be both durable and attractive. You can also use it as a storage trolley for heavy pots and pans. The rust-resistant design is an added bonus.
How A Shop Promote Its Sales By Providing Mobile Uility Cart ?

For retail stores and grocery stores to be successful, they must create a convenient shopping experience for all customers. However, that's easier said than done, considering how many factors can make a customer happy. For example, different buyers have different needs and preferences when shopping - some prefer to take a large basket and fill it slowly, while others prefer to take only what they need and get it done as quickly as possible. Additionally, some customers may have mobility issues and need additional assistance while traveling. On busy days, shoppers can hinder each other, clog aisles and shelves, bump into each other and slow everything down.

The list of questions about personal shopping is long, but most of them come down to a few key considerations: space, convenience, and choice. Customers should have plenty of room to move around and have easy access to a shopping foldable trolley cart or basket that fits their needs. This means that retailers and grocers need to invest in the right type of boat for their customers, while optimizing their basket and basket storage solutions. For retail stores and grocery stores, rolling carts are often a worthwhile investment because they are versatile and portable. Best of all, stores can also increase sales by selling these portable carts.

What you need to know about Rolling Stroage Cart ?

Admittedly, the term "rolling cart" seems redundant. After all, what good is any kind of shopping cart if it can't roll on the floor? That said, a rolling cart generally refers to a specific type of shopping cart, a portable folding rolling stroage cart that customers can fold and transport when empty, open up to store items, and roll like a low-profile cart. When opened, these rolling carts look like a hybrid of a standard cart and a large basket, with four wheels (two small rotatable at the front and two large fixed at the rear), a long handle that can be retractable, a narrow and deep one for transporting bulk groceries and other goods.

Why Use Them ?

So why do some customers prefer to use these rolling and folding carts? On the one hand, the low compartment allows people with height and / or mobility problems to more easily retrieve objects when they are on the move. Additionally, the carts double as walkers, helping customers navigate the store. Second, the portability and convenience of these carts help some customers through every step of the shopping journey - if they have a rolling cart, they can fold it up when they go to the store, then fold it up when they do their shopping. Open and scroll purchases. They can then unload the contents of the cart onto another boat, fold the cart or, if they live nearby, walk home using the cart.

Where and how to store rolling carts ?

Now that we've covered the scroll cart and its purpose, it's time to discuss the optimal placement and configuration. However, you must first decide whether you want to sell these carts to your customers or lend them to your customers while they shop. Most businesses will choose to sell a rolling cart to increase sales and increase customer satisfaction. Many shoppers will use the more traditional in-store carts and baskets, but for those with special needs, the ability to purchase a personal cart can be of great benefit. This saves resources for shoppers who only intend to use in-store items when some customers bring their own shopping cart.

Fortunately, since rolling carts are foldable, they don't require as much space as more traditional carts and baskets. Plus, you probably don't need to supply so many rolling carts because fewer customers are using them. This means that you may not need to use a cart fence to store your collapsible rolling cart. Instead, when folded, you can stack them on top of each other or on top of each other
Good Kitchen Companion 3 Tier Foldable Cart

Wireking 3 tiers foldable cart's multifunctional design makes it perfect for bathrooms, offices, libraries, and closets. Its collapsible frame allows you to store and carry it anywhere you need it. Its casters are 360 degrees rotating and have two lockable casters. It can carry heavy items with ease. It also has a swivel brake for easy maneuverability.

With its blending of rustic charm and contemporary design, it is the perfect choice for homes with small spaces. Its wooden shelves with grain details and metal frame are perfect for serving cocktails and wine. This versatile cart can be easily moved from room to room for easy access and storage. Its wheels are lockable to provide stability. You can store all of your bar supplies in this stylish cart.

Our foldable stroage cart can be used in any part of the house, whether it is the kitchen, dining room, or living room. These convenient pieces of furniture are perfect for small spaces and can be placed anywhere in the home. Its sleek design blends modern sophistication with rustic charm and wooden shelves feature grain details and a metal frame with feet to prevent slipping.

3 layer trolley stroage cart can be used anywhere in the home, whether it's in the living room or in the kitchen. A 3-tier foldable cart is a great addition to any home.If you're looking for a versatile cart, this model can be an ideal choice.
CONTACT US


Guangdong Wireking Household Supplies Co., Ltd.
We are always providing our customers with reliable products and considerate services.
If you would like to keep touch with us directly, please go to contact us