Best 4 Trolley Storage Carts For Your Home Storage
By:Wireking
Date:2021/12/23
——WIREKING Focus on the production and wholesale of storage carts and ironing boards
When you move into a new home, there are always a lot of new items to add, especially in the kitchen, bathroom, bedroom and so on, because you will buy a lot of items for daily use, so the storage of these items is really a headache, but in the face of this situation, there are usually many solutions, in the face of the kitchen, there will be wall-mounted shelves, but it is likely to damage the wall if it is a non-perforated sticker will leave traces. Facing the bathroom, toilet shelves, overhead shelves, all have a common problem, the support points are small and unstable. For sleeping rooms, bedside tables, but more expensive. This is the time to recommend a new product - the storage cart. Read on below for our presentation and recommendations.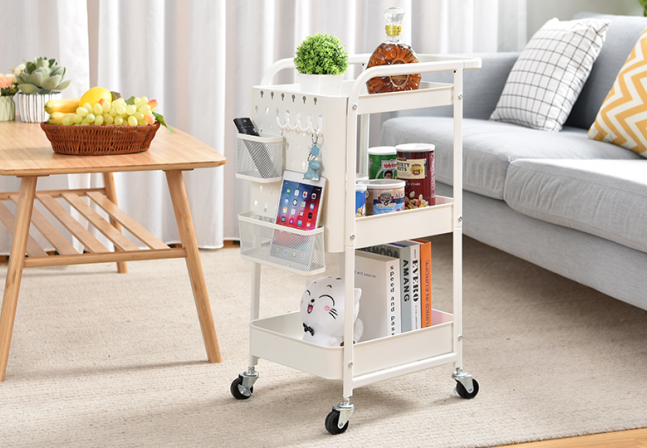 What to Consider?
If you know exactly the dimensions of where your furniture will be placed and how much space to leave before you move in, it will be easier to shop for a storage cart in advance. If not, don't worry, as most people have the dimensions of a three- or four-tier space, trust us. They are so incredibly handy for holding all sorts of items - from office and bathroom supplies to kitchenware - that you'll find a place for it, no matter what your setup is.
Once you've moved in, you'll have a better idea of its ideal use, but first, think about how you're likely to use it. I don't think it's too much to ask to buy more than a few of these storage carts, as they can be used in any scenario, and if you want to be more targeted, you can start by getting a clear idea of your niche of use - if you're a craft-making hobby cart, you can get the art supplies storage cart, or if you're a wine culture enthusiast, you can get our bar cart, etc
Of course, you'll also want to think about style, with storage carts ranging from utilitarian to industrial chic, and a variety of sizes to suit tight or extra tall spaces. In terms of functionality, almost all have castors - although not all have locks - and some come with special add-ons such as bins, hooks, pegboards, and slide-out opaque drawers for storing items you wish to keep out of sight.
How to choose?
All of the following multi-purpose storage carts are the most popular with purchasers, large supermarkets. During the research process, we read a large number of feedback from buyers, brands about their own users and combed through comments about the quality and overall satisfaction, all of which were factors in making our final choice. We offer a selection of popular styles - with drawers, sliding boxes, locking castors, and more - and offer a selection of utility carts across multiple price points, from budget to premium options that are worth the money for additional add-ons or high-end designs.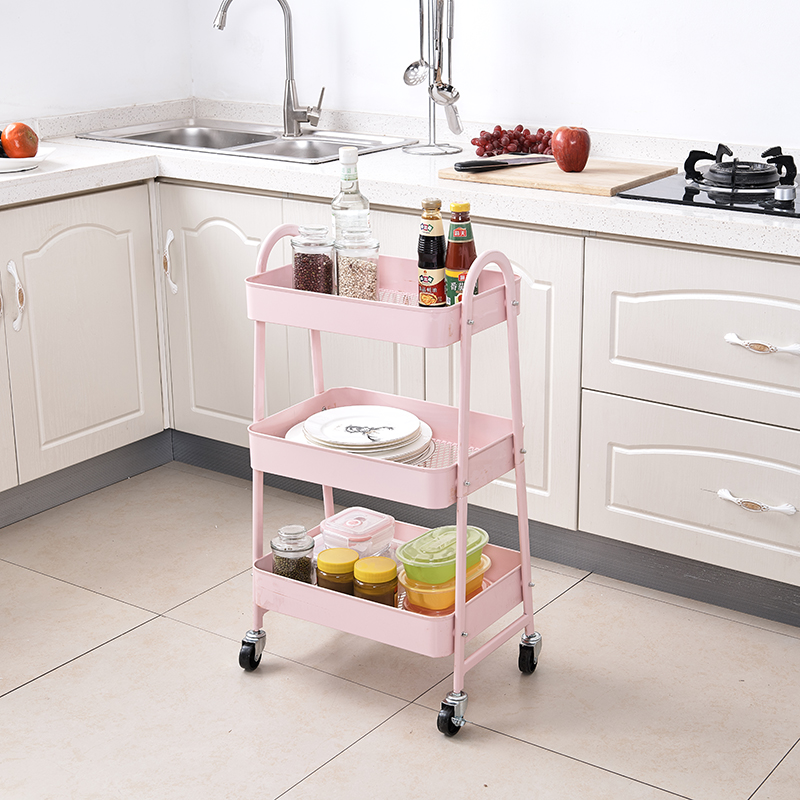 · ✔ MULTI-PURPOSE USE—This utility rolling cart is designed for space-saving and easy transport. It's an ideal organizer for toys in the playroom, for kitchen implements, art suppliers that any items as you wish, and perfect for home workstations and other storage solutions.
· ✔HIGH QUALITY—This unique 3 tier storage trolley cart with a heavy-duty frame and sleek powder-coated finish is anti-corrosion. The sturdy and durable 'A' shape structure ensures that it's reliable to store your daily supplies.
· ✔EASY MOVEMENT—There're 4 heavy-duty wheels with 360° rotation and premium quality. The utility "U" shape handle makes the cart more convenient to control and move. 2 lockable wheels with metal brakes allow a stable stop even on a slope.
· ✔ LARGE BASKETS—The mesh panel design ensure efficient airflow, stops liquid from build-up, and keeps your object clean. Reinforced edges prevent your items from falling. 3 baskets with a square design add heaps of space and make it easy to put and take your objects at all sides.
· ✔ SIMPLE ASSEMBLE—The whole size is about 17.05 L x 12.99 W x 31.02 H inches. It only takes 3 steps to set up in a few minutes, install the frame, tighten the baskets, and finish with the wheels. Mail order box packing size:16.61 L x 3.35 W x 12.4 H inches
2. 3 Tiers Plastic Utility Cart
Specification: 43*34*86cm
Style: the 3 tiers plastic utility cart adopts New Classical/Post-modern, Korean, Modern, Japanese Style, Classic, Traditional Chinese, American Style, Personalized Customization, European, Pastoral
Functional design: Detachable, Flexible, Multifunction, Foldable
Room Space: Kitchen, Bathroom, Bedroom, Dining Room, Living Room
3. DIY Pegboard Storage Cart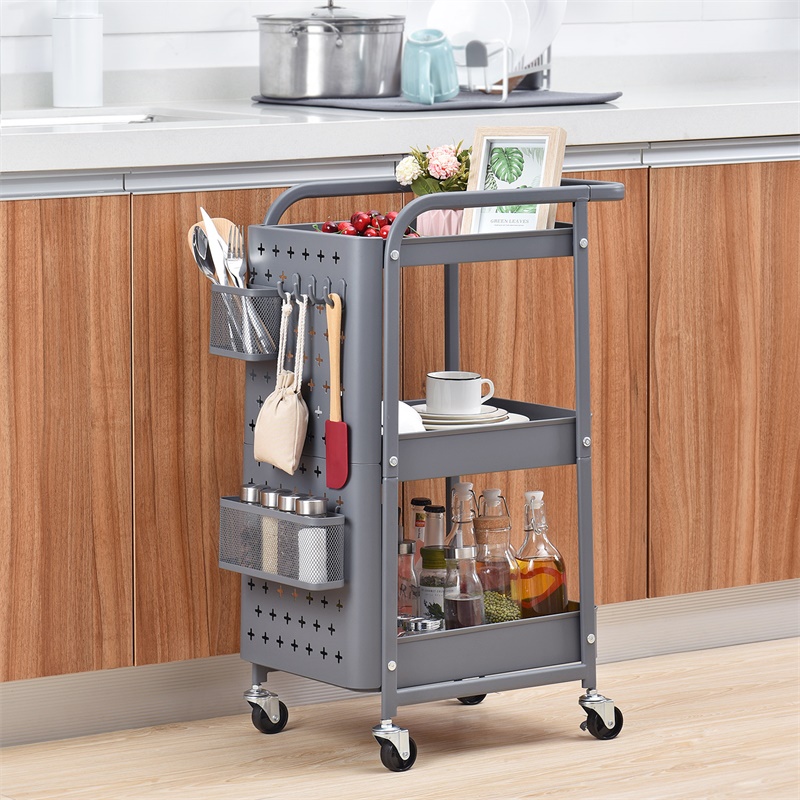 Pegboard: The double-layer hole board can effectively place and use tools, Side panel design consists of 2 perforated steel pegboards, 4 hooks, and 2 bins, providing a DIY area for extra organization. Customize in 3 styles for individual needs.
Handle: U-shaped handle design, faster and more convenient to grab and move
Basket: The thickened mesh basket makes the load-bearing capacity of the cart stronger and more stable
Package: Provide packaging design services for cross-border merchants in online transactions. The design of small packaging saves more logistics costs. The storage trolley is born for cross-border
The utility rolling cart is perfect for use in your kitchen, bathroom, or where you need some extra storage space. The sturdy construction and four castors make it easy for you to move the trolley and use it wherever you like. It even fits in tight spaces because of its small size. Utility cart materials and care steel, epoxy powder coating wipe clean with a soft cloth dampened in water and a mild washing-up detergent or soap, if necessary. Wipe dry with a clean cloth. For maximum quality, re-tighten the screws when necessary.
4. No Screw 4 Tier Gap Storage Cart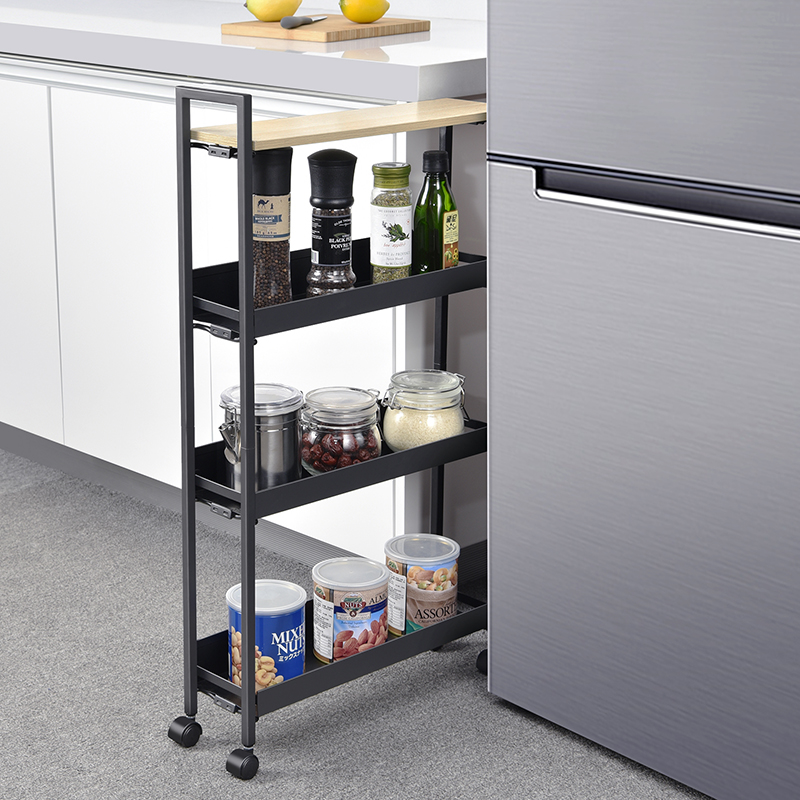 · Flexible 4 Tier Storage Cart: The 4 tier slim rolling cart is in design that can be used in tight spaces in your home for storage. The shelf unit easily slides between closets, kitchens, bathrooms, garages, laundry rooms, offices, or in-between your washer and dryer.
· Movable Shelving Unit Storage: 4 easy-glide, durable wheels, and ergonomic handle make the storage cart easy and convenient to pull in and out from narrow spaces. And 6 side hoops provide more spaces for your storage.
· Easy To Assemble: The narrow storage carts are made from plastic and stainless steel, they are durable and stable. No tools are required and no need to hire a technician, you can totally assemble this 4-Tier bathroom slim storage cart by yourself.
· Multi-Purpose: The Storage Cart can be placed in the Office, Library, Bedroom, Dresser, you can store your detergent, cleaning products, bathroom accessories, kitchen accessories, and lots more. Also, 2 or 3 shelves are adjustable to place on the countertops.
· Drainage Design: Mesh Basket shaped shelves are suitable for drainage, easy to clean, not easy to grow mold.
Website: https://www.wirekingtrolley.com/
https://gdwireking.en.alibaba.com/
Corporate Name: Guangdong Wireking Household Supplies Co., Ltd.
Address: No.38A, Sanzhouyang Road, Lunjiao Street, Shunde District, Foshan City, Guangdong Province, China.
Contact Person: Penny
Email: penny@wireking.com
Tel: +8613242135418
Focus on the production and wholesale of storage carts and ironing boards.
CONTACT US


Guangdong Wireking Household Supplies Co., Ltd.
We are always providing our customers with reliable products and considerate services.
If you would like to keep touch with us directly, please go to contact us