Wireking Best Ironing Boards of 2021
By:Wireking
Date:2021/11/25
According to the leading Chinese export ironing board company - WIREKING
Ironing can be a tedious and boring task - even getting the ironing board out of the wardrobe can feel like a chore. However, having a good and suitable ironing board can make everything so much easier. Whether you want to use a traditional standing ironing board a tabletop ironing board, or an ironing mat, the ideal ironing board fabric cover surface provides a smooth place for clothes to lie flat. Matching the ironing board to the ironing board fabric cover is also a learning curve, as the iron heat can be used effectively and repeatedly to achieve shorter ironing times and also to achieve the best crease-free results. A good ironing board should remain stable without wobbling and should not feel like an exercise to set up and put away.
Guangdong Wireking Household Supplies Co., Ltd. did a lot of ironing work before production and development, especially when testing steam irons and garment steamers. All this ironing work means that we are also constantly evaluating the ironing board in the laboratory. In fact, we even do an 'iron flip test' to measure how much force it takes to knock an iron over when it is standing upright on the end of the ironing board. Most irons break when the ironing board is knocked to the floor, so this is one way we check the stability of the ironing board and the durability of the iron.
For almost 20 years, the team has been committed to the business of ironing board development, whether it is the initial design development, the fabric samples used for steam iron testing during the ironing process, the cotton shirts used to evaluate the anti-wrinkle performance of washing machines and dryers, or the matching of ironing board fabric covers with ironing boards, WIREKING has been able to achieve the ultimate in the ironing board market in China, accounting for 70% of the annual exports
When we test ironing boards, we assess how easy they are to open, close, and set up. We also evaluate how smoothly they operate, if they are stable or wobbly, and the weight and bulkiness of the board while carrying it. We look at how much ironing surface they provide, the amount of padding, and how well the cover handles steam and moisture. Helpful add-ons like iron rests, sleeve boards, cord holders, and clothes shelves are also taken into account.
The styles below are a selection of styles from our export orders at WIREKING, mixed with our tested new ironing boards. Here are the best ironing boards for 2021:
1. The Most Popular Stylish Ironing Board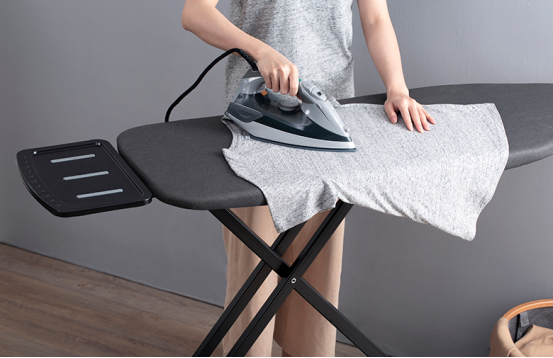 This model is a favorite of many mid to high-end brands as it has everything you could want in a functional ironing board. It has many handy features such as a sturdy metal ironing board that can accommodate a regular or steam iron. With 7 levels of adjustable height up to 91cm, you can adjust it to the right height. The wide square tube legs have non-slip foot covers. There is also a generous 15" x 48" ironing area to make the job at hand easy. The 100% cotton cover at the top stays taut and the special fabric makes this ironing board fabric cover even more heat resistant as it is interchangeable you can pick your preferred design from the wide range of ironing board fabric covers available from the brand. There is also a built-in child safety lock to prevent it from collapsing during use.
2. Large Ironing Board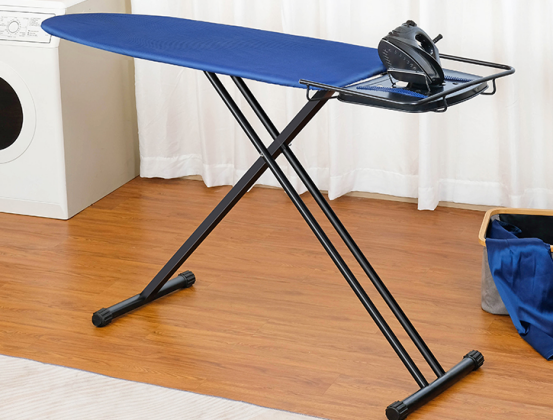 This large household ironing board is preferred by many European countries and medium to high-end customers because it has a large ironing area of 17" X 48" inches, which allows for faster ironing times. The dual purpose ironing board has a wire holder and two placement modes, with the wire holder down for large steam irons and open for small irons.
HEAT RESISTANT COVER - 100% cotton cover and 10 mm felt withstands the heat and steam from the iron. Remove the ironing table cover for washing to keep your clothes free from dust.
Variable Height Adjustment Up to 92cm
3. Table Ironing Board.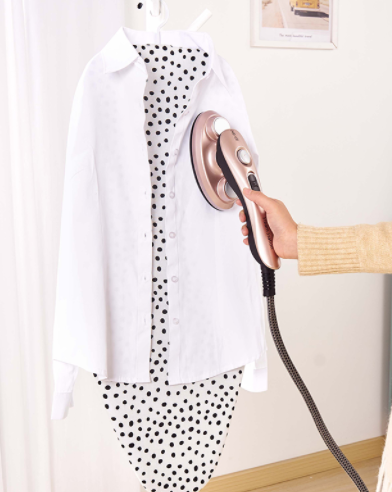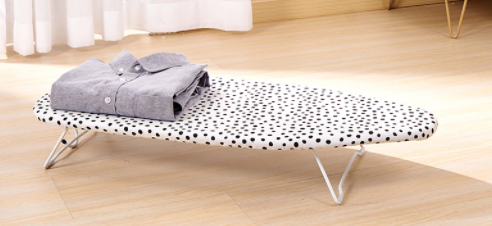 1. Mesh ironing board top
This mesh top ironing board measures 30"(76cm) long by 12"(30.5cm) wide. Height is 4.33"(11cm). It fits your countertop so it's the right height for everyone's favorite chore.
2. Table ironing board legs
The 2 legs have 4 non-slip caps for sturdy ironing. You can unfold and fold it in 1 second.
3. Table ironing board frame
The frame is made from durable steel construction.
4. Table ironing board Hook function
It's lightweight and portable design. You can put it anywhere you want
Here also has a retractable hanging hook for easy storage. When not in use, you can hang it in the closet or over the door.
5. Table ironing board cover
Look, it comes with an elegant cotton cover. it's replaceable if you wanna change.
Talking about the ironing surface, it's enough to put on a shirt. Look, it's perfect.
6. Quantity, packaging
This module is very popular all over the world. The annual qty reaches 600,000pcs. It's also a very good option for back to school promotion. You can put 10-20pcs into a colorful PDQ, which makes it much more attractive.
4. Removable ironing board--The new R & D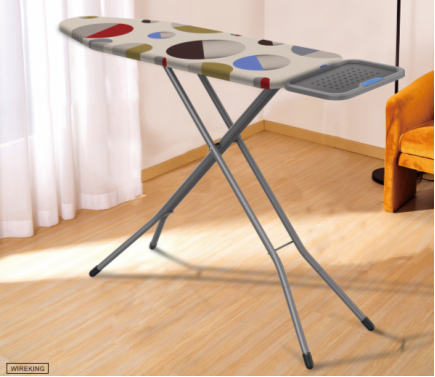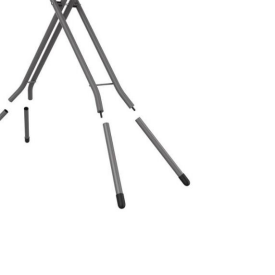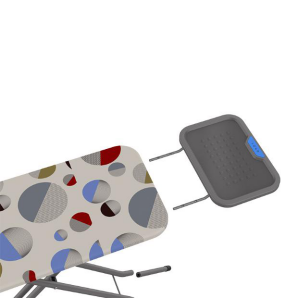 WIREKING latest design and research and development, specifically for online sales customers, Knock-down iron rest and feet space-save package. Four sturdy, durable, White non-skid metal legs provide rigidity when the board is in use. built to stand still, Plus Protective feet cover helps shield floors from scratches.
3 LAYER BOARD COVER PAD - HEAT-RESISTANT - GREAT IRON EXPERIENCE - a 3-layer blend of foam, felt, and fabric to ensure clothes drape smoothly over the surface without sticking or damaging fabrics Extra thick, 100% cotton supported by foam works best for withstanding heat and keeping clothes from sticking! The metal mesh top will allow steam to pass through and evaporate.
EASY STORAGE, LIGHTWEIGHT, STORAGE LOCK lightweight less easy to carry and take wherever needed, it folded almost flat to save storage space, the storage lock keeps it closed safely so it will not open accidentally it's just the right size to store in your bedroom closet, a laundry room, or a dorm.
Corporate Name: Guangdong Wireking Household Supplies Co., Ltd.
Address: No.38A, Sanzhouyang Road, Lunjiao Street, Shunde District, Foshan City, Guangdong Province, China.
Contact Person: Penny
Email: penny@wireking.com
Tel: +8613242135418
Focus on the production and wholesale of storage carts and ironing boards.
CONTACT US


Guangdong Wireking Household Supplies Co., Ltd.
We are always providing our customers with reliable products and considerate services.
If you would like to keep touch with us directly, please go to contact us