Family Essentials Storage Utility Carts for Organize Your Home
Family Essentials Storage Utility Carts for Organize Your Home
By WIREKING June 23, 2021——Focus on the production and wholesale of rolling storage carts and ironing boards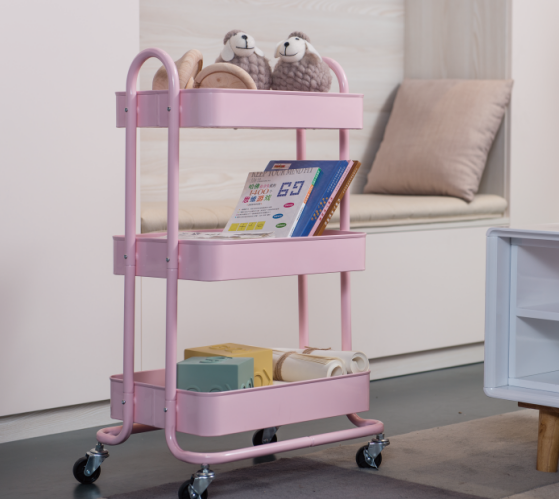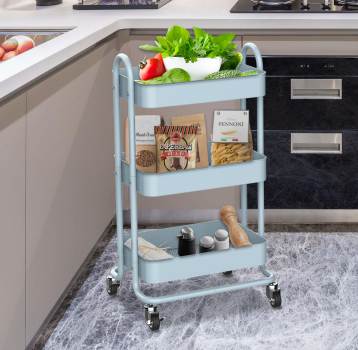 No matter where you live in a large space or a small space, no matter where it is, bathroom, kitchen, living room, bedroom, etc. Facing messy items, then you'll know that having functional storage is paramount. Whether that's under-bed drawers or wall-mounted shelving, furniture that looks good and doesn't take up precious floor space will go a long way in making your home feel cozy, not cluttered. For any home scene, one of the best solutions is to use a rolling storage cart.
What to Consider Before Buying a Storage Cart?
Rolling storage carts come in different sizes, shapes, and materials, but they all have casters and multiple tiered three-tier, four-tier, five-tier storage, making them useful for organization and easy to move around. Some storage carts have pull-out drawers in different sizes, and these are great for crafting supplies, papers, or anything you want out of sight. We also love utility carts, which have three or four tiers and open storage, rather than drawers.
Utility carts are often made out of metal, and they can be designed pieces in and of themselves, while also being a great place to store your things. Utility carts can be used for a great number of things — they're great for storing pantry goods, for example. You can use a utility cart as a makeshift bookshelf, and they're also ideal for use as a bar cart. Plus, you can keep one in the garage to store your most-used tools. The most important thing is that no matter any type of storage trolley, it can be placed in any applicable scene.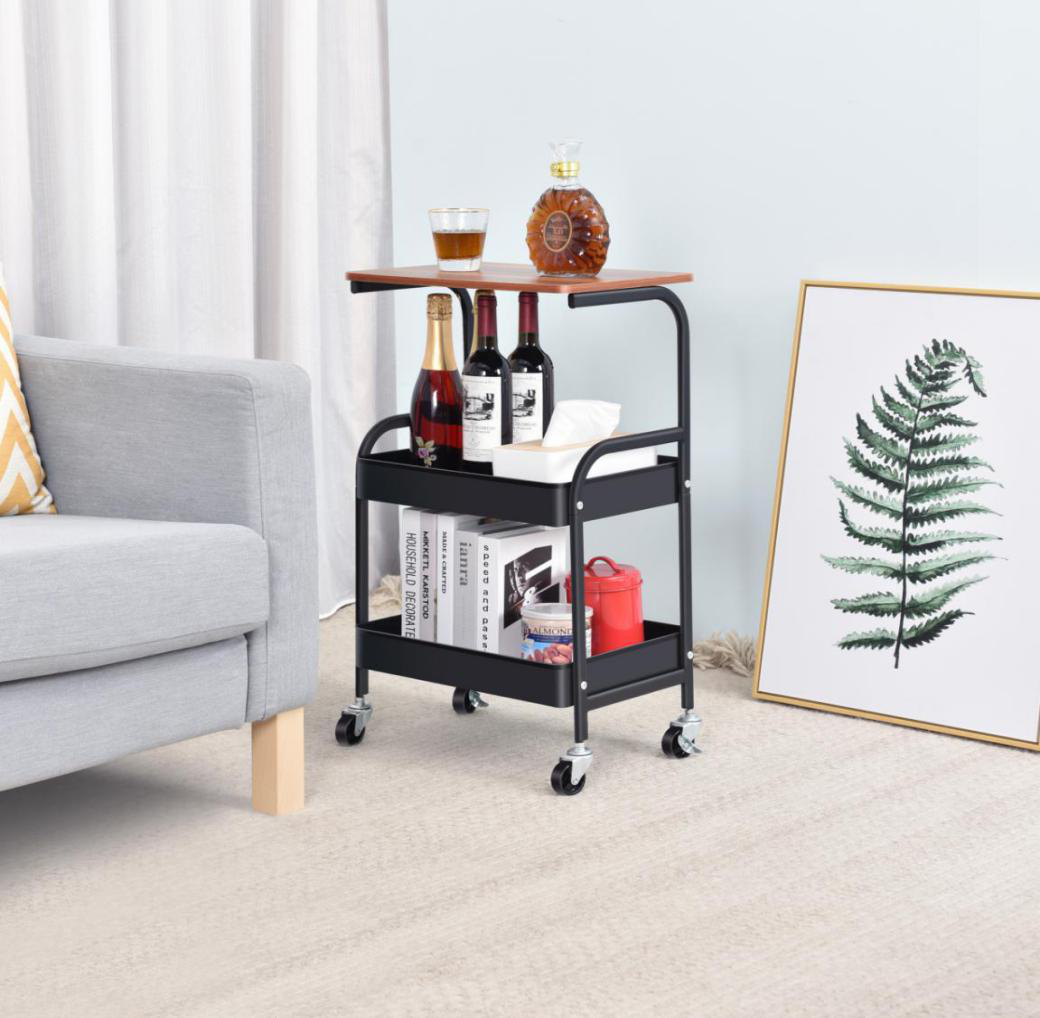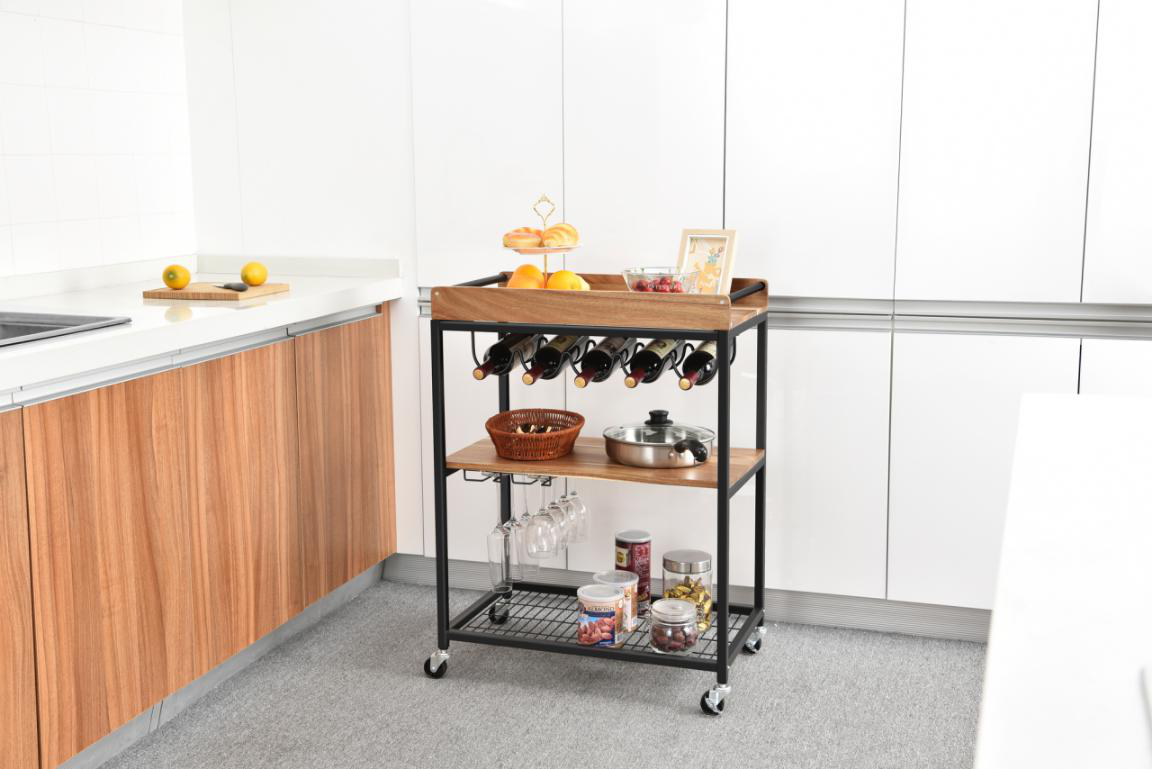 How We Chose the Best Storage Carts?
What you're storing and where you're storing it is a big factor, which is why we've picked out a range of different rolling storage carts. For example, some have a lot of small, plastic pull-out drawers. These can be great for staying organized, even if they're not the most aesthetically pleasing. If you want a more stylish piece, a metal utility cart can add a slightly industrial edge to any space, while giving you great storage space for kitchen essentials, crafting supplies, or liquor. Whatever you use them for, where to put them, these storage carts will go a long way in helping to organize your home.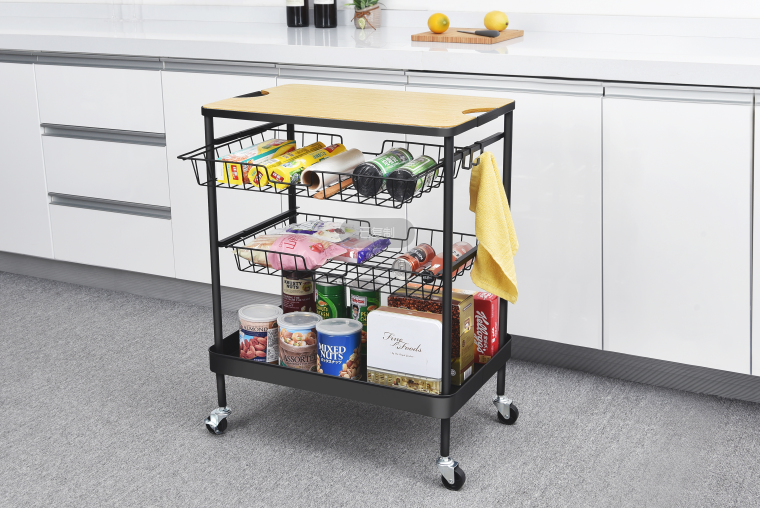 1. Simple Houseware Heavy Duty 3-Tier Metal Utility Rolling Cart
This stylish utility cart has a three-tiered design and is done in sturdy metal. Each tier is open, rather than being a drawer, there is also an MDF board on the first layer, this board can be moved. The sides of each tier have high walls, helping to keep everything together while maintaining easy access. The bottoms of the trays are a metal mesh material, which is handy if you're putting anything wet on the tray. Two of the casters lock which helps to keep the cart stationary,4 wheels are silent wheels, don't worry about making loud noises.
Pros: Stylish design. The three-tiered design offers ample storage. Locking casters for secure storage. There is also a pair of handles for easy push and pull from different directions.
Cons: While it's listed as heavy-duty, it's not ideal for anything too heavy. The load-bearing capacity of each layer is about 20KG.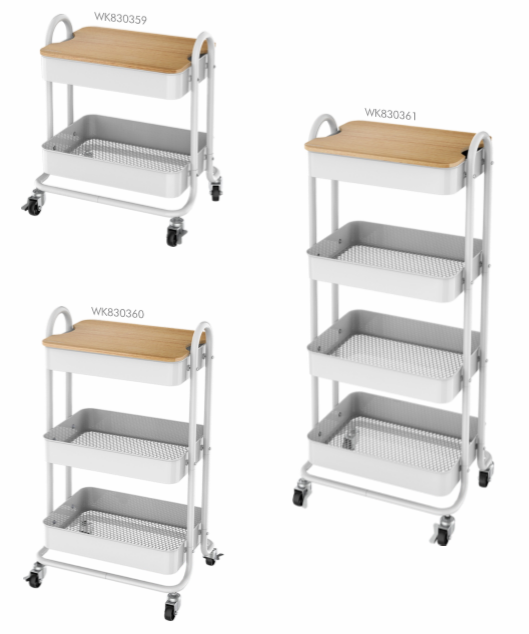 2. Coat Rack & Shoe Rack Rolling Storage Cart
How to make good use of the porch, living room, and bedroom location, I think this clothes rack and shoe rack storage cart is very suitable for you. When you get home, you can hook the clothes on the metal pole, the shoes can be placed on the bottom layer, and bags, keys, and other items can be placed in the middle. The casters have a locking foot brake to keep the cart from moving. There will be two additional sets of extensions of accessories.
Pros: Multi-purpose storage cart. Change the traditional coat rack, easy to move, locking system to prevent movement.
Cons: Overall, the storage capacity is relatively weak.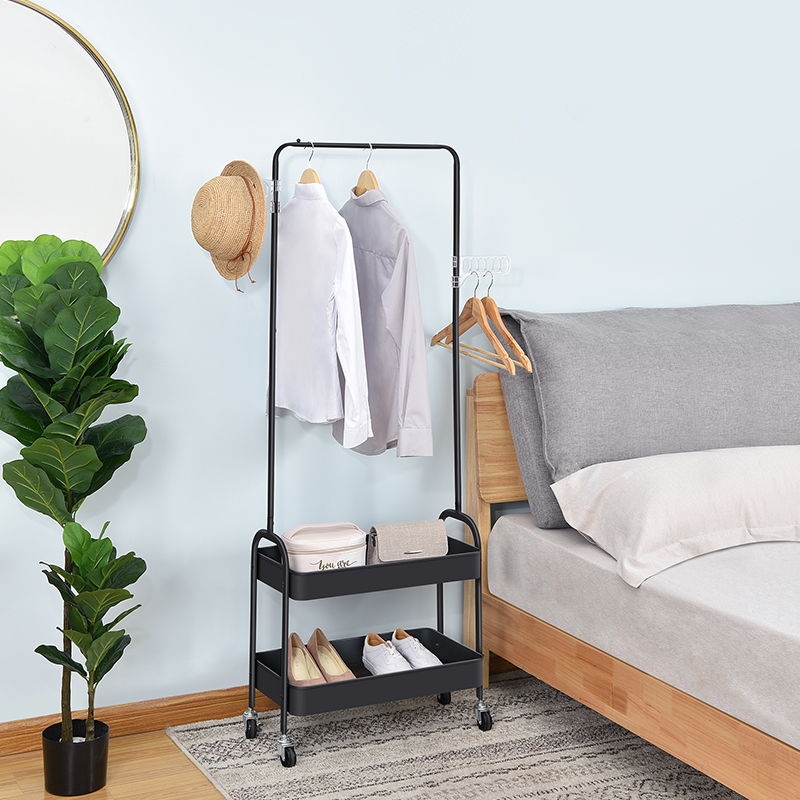 If you're looking to make use of an awkward space between the washing machine and the wall or between two kitchen appliances, then this slim, three-tiered cart is a great option. At only five inches wide, it can easily slot between plenty of tight spaces, while still offering ample storage for things like laundry detergent, pantry foods, and whatever else you can imagine. It's made from lightweight plastic and metal and has a large handle to easily pull it back and forth.No screw is easy to install.
Pros: Good option for tight spaces, each tray has high walls to keep items from falling out. Ideal for cleaning supplies, canned goods, etc.No screw is easy to install.
Cons: somewhat lightweight, and it's not ideal for anything that's too heavy. Suitable for the gap between.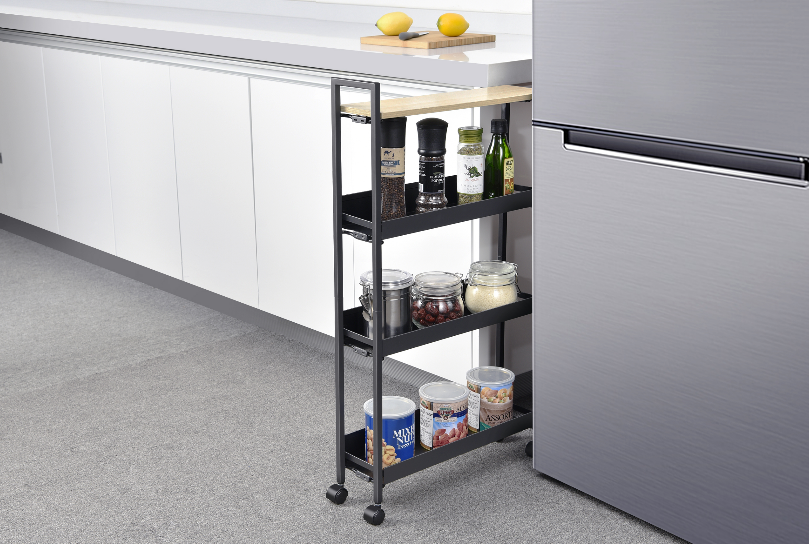 4. 3 Shelf Metal Rolling Utility Cart
This stylish cart has three-tiered shelving with small bars on the sides and back to keep items in place. The front of the rolling storage cart is completely exposed, allowing easy access and giving the cart a streamlined look. It works well as a display for books and plants, and it's well-suited for use as a bar cart as well. Plus, it comes in stylish colors like black, teal, white, and red.
Pros: Stylish modern design. Good for displaying items or use as a bar cart or bookshelf.
Cons: Somewhat short and small.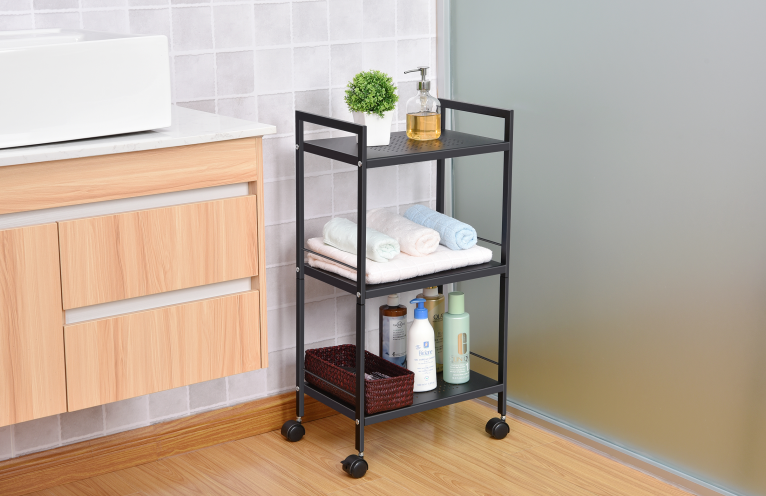 5. Dish rack 3 Metal Rolling Utility Cart
This is also a kitchen storage trolley, but it has achieved a functional upgrade. The draining rack, dish rack, and cup rack are all added to the storage trolley. After washing the cups and dishes, the cutlery can be put in, and it will be equipped with one. Drain pan, you can pour out the water
Pros: Stylish design. The three-tiered design offers ample storage. Locking casters for secure storage. There is also a pair of handles for easy push and pull from different directions. With a drain rack, you can put the dishes, chopsticks, knives, and forks that have just been washed.
Cons: The use scenario is relatively single.
Question Time
Regarding this storage trolley, we have gathered some questions from customers. Through the trial experience, we want to share our most intuitive experience with everyone.
Q: With so many screws, is the cart easy to install?
A: Yes, according to different styles, there are more screws. With wheels, there will be more places to be fixed. It looks like a lot of trouble, but as you proceed step by step, you won't feel too many screws. Coming pressure.
We got several useful installation tips through the installation
1. The small black screw can be easily screwed in by pressing and rotating with the thumb.
2. The big screws do not need to be tightened first. After the installation is completed, put some heavy objects in the basket, and then tighten the screws uniformly, which can make the basket stronger.
Q: Is there something wrong with the cart on the wooden floor? What is the quality of the pulley?
A: The pulley is made of smooth plastic material, the workmanship is fair, there are no sharp edges and corners, and there are no obvious seams in the part that is in contact with the ground. However, it is best to install it on the carpet to prevent the parts from scratching the wooden floor.
Q: What should I do if the basket drops dust?
A: The basket can be wiped with a rag. There are basically no clean dead corners around the basket, and the mesh part is smooth.
Dirt accumulation on the side parts is more difficult to deal with, there are dead corners, and you may need to use cotton swabs.
Q: Does the material have burrs? Are you afraid of scratching?
A: The product as a whole has almost no sharp edges and corners. It is safer if you have children at home.
Our scissors are scratched in a very hidden place, there are scratches! So please avoid direct contact with sharp objects!
Thank you for your patience to watch. The storage carts we produce and wholesale are very suitable for different scenarios. More ways to use them depend on each buyer to explore. Thank you again for watching. Look forward to our next meeting.
Corporate Name: Guangdong Wireking Household Supplies Co., Ltd.
Address: No.38A, Sanzhouyang Road, Lunjiao Street, Shunde District, Foshan City, Guangdong Province, China.
Contact Person: Penny
Email: penny@wireking.com
Tel: +8613242135418
Focus on the production and wholesale of storage carts and ironing boards.

CONTACT US


Guangdong Wireking Household Supplies Co., Ltd.
We are always providing our customers with reliable products and considerate services.
If you would like to keep touch with us directly, please go to contact us