Top 5 Most Practical Home Use Ironing Board
By:Wireking
Date:2021/12/20
Ironing is a chore that we can't get away from, and we all need a quality multifunction ironing board to make sure we look neat when we're out and about. A professional ironing board provides an ironing area that, in conjunction with an iron and ironing board cover, allows us to get those most stubborn creases out of our clothes and is designed to handle the heat of an iron. Ironing directly on tabletops and kitchen counters is not only impractical but also very dangerous. An ironing board is ergonomically constructed to provide a safe and smooth surface and an iron holder to hold the iron at various times.
This article uses and tests some of the most basic features of eight ironing boards from Wireking, currently the largest household ironing board supplier of exports from China. It concentrates on the weight of the ironing board, the minimum and maximum opening heights, the usability of the iron, and the overall design of the ironing board itself. Addressing the construction and safety aspects of each ironing board, it also attempts to tease out the strengths and any possible weaknesses of each model to help you choose the best ironing board for your specific requirements.
By basing our findings on feedback from export suppliers provided by Wireking and taking the time to research the best ironing boards, we've been able to compile our findings and trouble spots into a detailed article that provides a more in-depth review of each model we found. To further your knowledge of the basics of the ironing board in question before you make your final decision, we've also compiled a fantastic buying guide that answers some of the most common questions and ensures you're fully prepared when it comes time to put your money where your mouth is.
More Details About Wireking Ironing Board
Pressing surface: 48 x 15 inches
Weight: 14 lbs.
working height: 38 inches
Iron rest: Yes
Extra features: inbuilt child safety lock, 10-year guarantee
Wireking professional ironing board in standard size is not only our best all-around choice, but it's also one of the best ironing board products on the market as chosen by our suppliers! This 48 x 15 inch ironing board has an ironing rest that provides constant comfort and safety. Its sturdy construction, supported by four sturdy legs, provides strong support both on the carpet and hard floors. To ensure that the ironing board doesn't move around during use, there are anti-slip caps attached to the feet. The Wireking ironing board is designed to have a wider working surface when ironing, designed to make ironing a more enjoyable task, and can be used with most standard irons. To ensure that you can iron in the utmost comfort, the ironing board allows you to change its height setting, choosing from a total of four options from 30 inches to 38 inches. The ironing board will not collapse during use because of the key child safety lock built into it, which also ensures that it can be safely folded away when not in use.
Customers who choose Wireking standard size ironing board find that it is a more stable product that holds well when ironing a variety of items on it, but more importantly, it is probably one of the more durable ironing boards on the market, with many customers claiming that the board has lasted for years.
What are its advantages?
Sturdy construction
Non-slip foot cap
Built-in child safety lock
Advantages: Larger and heavier in size
Best Ironing Board With Stylish Iron Rest And Cloth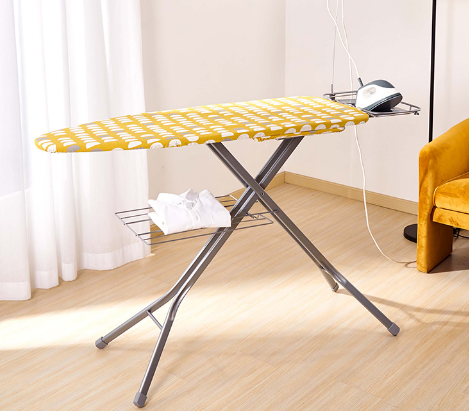 Features
Pressed surface: 48 x 18 inches
Weight: 13.86 lb
Working height: 38.18 inches
Iron frame: Yes
Additional features: 3-layer cotton fabric cover with a heat-absorbing reflection for faster ironing is not only a 100% practical ironing board but also a visually stunning modern board – which would look great in any home.
This is a thoroughly ergonomic model that is probably one of the best ironing boards when it comes to power and peak performance. Designed with comfort in mind, this model has a maximum height of 38 inches and the result is a 100% cotton Wireking covering that works wonders, ensuring faster crease removal and speeding up the entire ironing process thanks to the 3 layers of cotton material, as absorbing the evaporated water vapor to reach a faster ironing speed. In addition, its iron rest once again increases the speed of work while providing a more user-friendly design and resting position. Thanks to the addition of a simple flexible guide to hold the wire in place, tangles and snags are a thing of the past when using the ironing board, making ironing a more straightforward process while ensuring the iron stays in place with the long stable and sturdy ring legs. What's more, this 48*18 inch model allows you to take advantage of the additional low shelf, where you can even place your steam generator if you wish.
Wireking customers claim that this is one of the best designed boards they have ever used, offering excellent stability and a more comfortable ironing surface for longer periods of time. Although it is seen as a more expensive model, for most customers, the price has been perfectly justified in terms of performance as well.
What are its best features?
Modern design
Versatile use
Powerful structure
Flexible use
What can be improved?
Expensive models
Large Ironing Board 19"x49"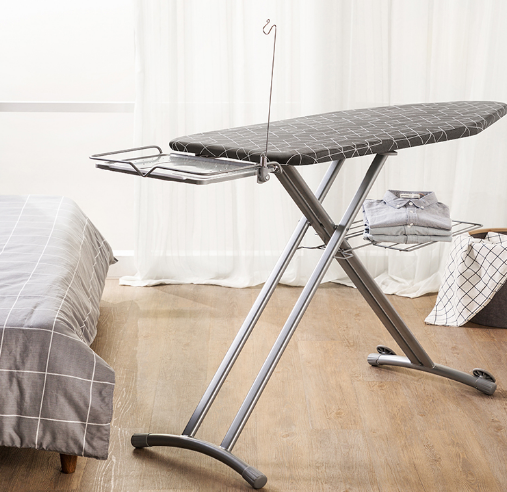 FEATURES
Pressing surface: 49 x 19 inches (using an extension)
Weight: 25 lb
Working height: 38 inches
Iron rest: Yes
Extra features: laundry rack, ergonomic support for iron, locking system for storage, double wishbone legs.
The 49-inch long ironing board with an effective working area makes it one of the best ironing boards, and it is a unique design because it has a three-in-one element that is not usually found in such products. This large panel makes it a great choice for quilters and weavers. The reliable longboard incorporates a seven-step height adjustment that takes you from 30 inches to 38 inches, and it uses a strong frame to ensure maximum stability throughout, which is enhanced by its double wishbone legs that prevent any board rocking. A great addition, the ironing station area is also extended and exceptionally sturdy, and most importantly ergonomically designed to reduce the bending motion of your wrists every time you reach for the iron. In addition, this model has a convenient laundry rack that not only holds your folded clothes but also serves as an accessory for when you iron skirts, robes, and longer length garments. Comes with a wire bracket, which only can prevent the wire is too long resulting in stumbling.
What makes it stand out?
Wider board width
3-ply cotton ironing board fabric cover
Laundry rack
Sturdy frame design
Two-in-one elements
What disadvantages do you have to keep in mind?
Expensive model
Relatively heavy
Best Table Top Ironing Board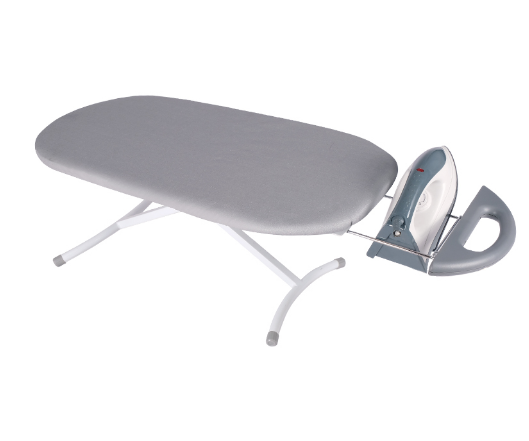 FEATURES
With Retractable wire iron rest
The 2 legs have 4 non-slip caps for sturdy ironing
mesh top ironing board measures 31.5"(80cm) long by 15.5"(39cm) wide
The Tabletop Ironing Board is our best tabletop ironing board option and is the choice of many cross-border e-commerce sellers. Not only does this ironing board offer simple tabletop ironing, but it also adds a secure area with its retractable iron holder. This means that you don't have to worry about damage and can safely place the iron when not in use. What's more, when you're not using this tray, you can just push it back in and hide it away. Due to its reduced size, this is the easier ironing board to use when space is limited or when you don't even have much time to take out a large ironing board. With the ability to handle a range of ironing tasks, it is a cotton-covered ironing board with a pad underneath that folds up out of sight when you are done using it. Lightweight and just the right size to ensure you can iron your entire outfit, this is perfect for college students, crafters, and those who live in small houses. It's also a great model to take with you on your travels, ensuring you look your best even after hours on the road.
What is its best feature?
Foldable
Retractable iron rest
Lightweight
Reasonable price
Comfortable ironing board cloth cover
What could be improved?
Limitations of the panel
Multi-purpose Ironing Board
1. Mesh ironing board top
This mesh top ironing board measures 30"(76cm) long by 12"(30.5cm) wide. Height is 4.33"(11cm). It fits your countertop so it's the right height for everyone's favorite chore.
2. Table ironing board legs
The 2 legs have 4 non-slip caps for sturdy ironing. You can unfold and fold it in 1 second.
3. Table ironing board frame
The frame is made from durable steel construction.
4. Table ironing board Hook function
It's lightweight and portable design. You can put it anywhere you want. Here also has a retractable hanging hook for easy storage. When not in use, you can hang it in the closet or over the door.
5. Table ironing board cover
Look, it comes with an elegant cotton cover. it's replaceable if you wanna change. Talking about the ironing surface, it's enough to put on a shirt on. Look, it's perfect.
6. Quantity, packaging
This module is very popular all over the world. The annual qty reaches 600,000pcs. It's also a very good option for back to school promotion. You can put 10-20pcs into a colorful PDQ, which makes it much more attractive.
Corporate Name: Guangdong Wireking Household Supplies Co., Ltd.
Address: No.38A, Sanzhouyang Road, Lunjiao Street, Shunde District, Foshan City, Guangdong Province, China.
Contact Person: Penny
Email: penny@wireking.com
Tel : +8613242135418
Focus on the production and wholesale of storage carts and ironing boards
CONTACT US


Guangdong Wireking Household Supplies Co., Ltd.
We are always providing our customers with reliable products and considerate services.
If you would like to keep touch with us directly, please go to contact us